Getting Into Flow States Is the Holy Grail of Productivity and Performance
The Most Powerful Cognitive and Mind Enhancing Complexes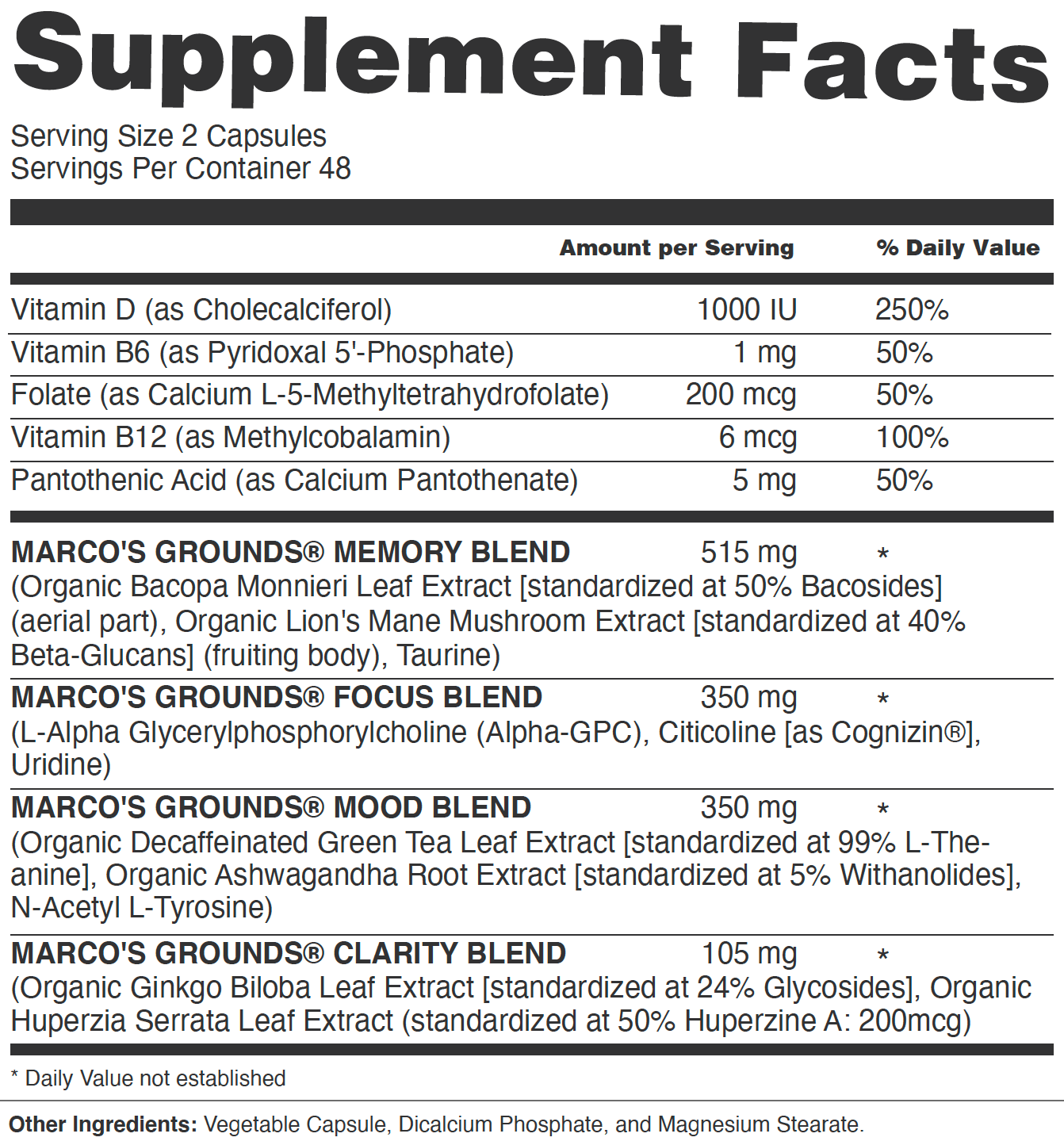 Fact & Figures
Suggested Use: Adults, as a dietary supplement, take four daily, preferably with a light meal. Consult a medical doctor before taking this or any other nutritional supplement if you are pregnant, nursing, have or suspect a medical condition, or are taking any medications. Store in a cool, dry place.
KEEP OUT OF REACH OF CHILDREN.
FAQ
What is a nootropic?

Simply stated, a nootropic or cognitive enhancer (or smart drug) is a natural or synthetic compound that helps increase mental performance. Nootropics have multiple modes of action to promote memory, alertness, concentration, attention, motivation, relaxation, mood, alertness, stress resistance, and other cognition aspects. Several brain circuits may be enhanced with some nootropics. Cognitive enhancers can also help with long-term brain health or slow down cognitive decline.
What is Maximum Mind? ​

Maximum Mind is a cognitive supplement designed to heighten mental clarity, sharpen your focus, boost your memory, and help keep your mood balanced. Maximum Mind uses natural compounds and patented ingredient technology to support your brain function and health now and in the future.

Maximum Mind supports clear thinking and increases your tolerance to stress. It helps you focus on complex tasks. It enhances and balances your mood.

Learn new concepts faster, reach flow states easier, crush the to-do list, react quicker, and keep your brain healthy for longer with Maximum Mind.

All-natural. Stimulant free. Yet so powerful.

Choosing between health and performance is over.
How does Maximum Mind work?

Thanks to our advanced formulation strategy and superior active extraction technology, Maximum Mind is different and better than any nootropic formulation ever developed. Maximum Mind is the most comprehensive mental performance product available. Its fast-acting formula is designed to fuel cognition while supporting long-term brain health. Maximum Mind combines high-potency, high-purity, organic ingredients by considering their complex synergy to create a multiplicative effect that goes far beyond what any component on its own would achieve. The formulation also makes innovative use of permeation enhancers – molecules that increase other compounds' impact – to circumvent one of the highest pharmacology barriers: dose-dependent side effects. This enables Marco's Grounds to use absolutely safe doses and yet still produce an incredible effect. Maximum Mind goes above and beyond by not only increasing beneficial neurotransmitters but also decreasing their rate of breakdown, thus solving the limited brainpower problem on both sides.
Is Maximum Mind right for me?

Do you have deep levels of fatigue or brain fog that don't go away with any amount of coffee? Do you find yourself looking for words or have trouble focussing at work? 

Do you feel like you have low energy in the afternoon and there's no obvious reason for it? Would your life benefit from you having more mental energy to apply toward your goals? 

Then the answer is yes Maximum Mind is right for you. Maximum Mind has changed the lives of thousands of women and men from 18 to 80 and is designed to rapidly rejuvenate and reinvigorate your brain and mental performance, even in the worst cases.
What does Maximum Mind feel like?

A customer compared it to putting on prescription glasses after being used to seeing blurry world, but for mental performance. Maximum Mind is a whole-brain optimizer formulated to facilitate an adaptive peak-performing mental state, unlike brain supplements that target one or two mental performance aspects. Therefore, Maximum Mind gains occur in several directions and extend to satisfy all cognitive demands.

–   Professionals have increased multitasking or stronger single-task concentration in the workplace.

–   Athletes feel more energized and motivated to work out.

–   Students note enhanced learning ability and relaxed clarity to complete exams.

–   Competitors experience enhanced strategic analysis and quicker response times during contest times.

–   Maximum Mind can soothe the mind and brighten mood while increasing verbal fluency in social environments.

–   Generally, most users notice increased focus, a sharper memory, shorter processing times, raised energy, and a more balanced mood.

As a universal cognitive enhancer improving several mechanisms of our most complex organ Maximum Mind will most likely boost any part of human lives.
What are the extended Maximum Mind benefits?

Supports Short and Long Term Cognitive Function

Short term, Maximum Mind works to balance mood, soothe the mind, and sharpen mental clarity, increasing alpha and theta brain waves, helping you apply laser focus to the task in front of you. After only 4 weeks of taking Maximum Mind, participants of the studies saw an average:

37.2% increase in scores for planning skills,*14.4% increase in scores to measure the ability to concentrate/avoid distraction,*16.9% increase in scores for verbal reasoning,*31.1% increase in scores for visual representation,*9.8% increase in scores for episodic memory, and*8.7% increase in scores for verbal short-term memory.*

Long-term, Maximum Mind is designed to replenish vital ingredients required for high-level cognition. It gives your brain the nourishment it craves so you can perform at a higher RPM and be there for the people in your life. The ingredients in Maximum Mind are clinically proven to increase neurotransmitter activity and fuel the brain while enhancing memory, focus, clarity, and mood.

Maximum Mind results from thousands of hours of research and development by some of the top scientists, MDs, and PhDs. Top professionals, entrepreneurs, surgeons, artists, and more all trust Maximum Mind to help them perform at their best, to give them the edge they need to continuously perform at higher levels. Clinical studies show that alertness, memory, memory recall speed problem-solving skills, and learning capacity are improved within four weeks, culminating at 16 weeks, while nerve growth factor (NGF) stimulation continues supporting neurogenesis and protecting the brain long term.

Powerful Mood Support

The unique ratio of compounds as well as the high-potency ingredients in Maximum Mind promotes clear-headed cognition and a positive mood all day long without any jittery bursts or crashes.

Carefully Sourced Ingredients

A tremendous level of research went into not just the selection of ingredients but the sources as well. Maximum Mind contains no artificial colors, flavors, fillers, or sweeteners and is sourced from family-owned farms. Maximum Mind is organic, vegan, gluten-free, and non-GMO.

Made in Switzerland

Maximum Mind is manufactured with high-quality, high-purity ingredients in Switzerland in state-of-the-art GMP and ISO-certified laboratories.

Third-Party Tested

We quarantine and test all ingredients to verify purity and then prepare, blend, encapsulate, and bottle Maximum Mind. Finished batches are then third-party tested to validate purity, potency, and consistency.

Stimulant Free

Maximum Mind is 100% caffeine-free, non-GMO, vegan, and designed for long-term daily use.

30 Day Money-Back Guarantee

We are confident you'll love Maximum Mind, Marco's Grounds Pharmaceutical Grade Cognitive and Mind Enhancing Complex as much as we do. If after using Maximum Mind as suggested for 30 days you don't find it valuable, just let us know, and we will refund your purchase, no questions asked. Try it today, risk-free.
What are the key aspects of Maximum Mind?

Swiss Made Cognitive and Mind Complex

Clinically studied

Increases speed of thought

Improves alertness and concentration

Enhances cognitive function

Contributes to mental performance

Increases working memory and brain performance

Preserves physical and mental capacities

Slows down aging-related cognitive decline

No stimulants or sleep alteration

0% caffeine

100% plant-based
Is Maximum Mind safe?

Maximum Mind contains only generally recognized as safe ingredients. 

Maximum Mind is a natural proprietary formula manufactured in Switzerland in an FDA registered and GMP certified facility using state of the art, precision engineered machinery and under the strictest and most sterile standards. 

Each ingredient is 100% plant-based, soy-free, dairy-free, non-GMO, and put through additional third-party inspections and quality control to ensure high purity and potency. As always we advise you to show a bottle of this to your doctor before you take it, just to be safe.
How long does one bottle of Maximum Mind last?

One bottle lasts for one month of standard suggested use. Depending on your needs you might want to increase or decrease your daily intake. At maximum recommended use (do not exceed six capsules per day) one bottle will last you about three weeks.
How many bottles should I order?

If you're over 30 years old and have already submitted your nervous system to high levels of sleep deprivation, alcohol or stress, we recommend you take Maximum Mind for at least 3 to 6 months so it has enough time to work throughout your entire body to normalize your levels of Acetylcholine. Every 3 bottle package of Maximum Mind comes with the 2 bonuses absolutely free. Or make the smart decision and get the heavily discounted 6 bottle package.
What's the best way to take Maximum Mind?

Take two capsules of Maximum Mind with a meal for increased absorption twice a day. Its bespoke proprietary blend of natural ingredients will get to work right away for you even when sleeping. For more in depth information, consult the Maximum Mind Experience page.
Can I order Maximum Mind as a one-time order only?

Prices above are for one-time orders or subscription products. You can choose a one-time payment and there will be no auto-ship, subscriptions or automatic billing.

Yet, subscriptions don't only remove the hassle of having to reorder and make sure you never run out but also offer a 15% discount over regular orders. They are also cancelable anytime. We do recommend subscriptions to our customers.
What if Maximum Mind doesn't work for me?

It will work for you. Yet, some people don't notice the gradual improvement but only notice the sharp decline to before Maximum Mind performance levels after they stop.

This being said, every single bottle of Maximum Mind comes with our iron-clad 30-day 100% money back guarantee. If for any reason you're unsatisfied with your results, just contact customer support for a no questions asked refund.
Why is Maximum Mind more expensive than other products I've seen

It's not. Other products simply use diluted ingredients, fillers and cheap stimulants like caffeine anhydrous to produce a noticeable effect.

We believe our customers want the best money can buy to experience the full benefits of Maximum Mind. There are enough products in the low to mid-range segment that simply fail to replicate clinical benefits due to insufficient dosages or unwise ratios.

To answer this fully we need to dig deeper into the chemistry of high purity compounds. Most other products use fillers to reduce purity and increase fluidity of the material for manufacturing. We don't use fillers. We use only high purity materials, which permits us to pack so much punch in only 4 daily caps of standard suggested use.
What do I do now?

This is the fun part. Click on one of the packages above. Enter your order details on our secure checkout page. After you've finished we'll get your Maximum Mind shipped out to you straight away.